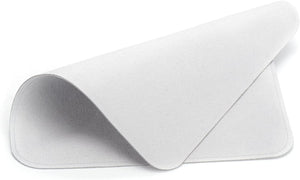 Migeec Polishing Cloth for Screen Display Cloth Abrasion free Microfiber Material Mleaning Cloth
[Designed] - Polish cloth cleans design for any Apple products, Can be safely and effectively clean your precious devices, including nano-texture glass.

[Premium] - Made with premium durable high-density blend of REAL microfiber with 1.5 mm thickness.

[Convenient]- Our REAL Microfiber polish Cloth is reusable, machine-washable. This cloth is easy to carry in your bag or pocket when you're on the go, so you can effortlessly clean dirt, smudges, and debris off your devices.

[Safe to Use Anywhere] - Can be used on any delicate surface like smart phones and other touch screens, camera lenses and filters, etc.

[Dimensions] - 15.5 x 15.5 x 0.15cm. Cleaning method: Wipe directly, or wipe with detergent.